---
13. June 2015 – Lachen, Switzerland
A work together with Julie Fischer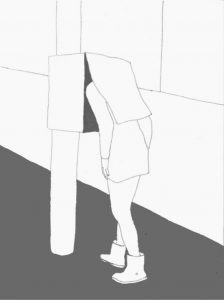 The starting point of our event was the desire to create an interactive sound installation in the Public Space addressing the importance of the acoustic environment.
The passer-byes had the chance to approach the sound boxes at any time of the day, and placed the head inside in order to listen to the sounds that are being played in the inside.
The concept behind the idea of placing this" refreshing boxes" is that people, through the act of listening, can take a break from the environmental noises around them as well as taking a moment to pay special attention to their sense of Listening. .